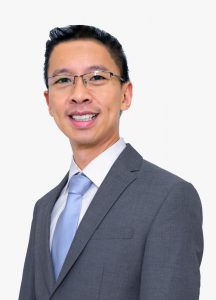 Specialist Accreditation in Paediatric Surgery (Ministry of Health Singapore, School of Postgraduate Medical Studies and Academy of Medicine.
Singapore Medical Council Certificate of Specialist Registration, Paediatric Surgery. 
Bachelor of Medicine, Bachelor of Surgery (Singapore),
Member of Royal College of Surgeons and Physicians (Glasgow),
Master of Medicine (Surgery) (Singapore)
Fellow of Academy of Medicine Singapore (Paediatric Surgery)
Dr. Wong Zeng Hao qualified as a paediatric surgeon who specializes in gastrointestinal, genitourinary tract and chest conditions of newborn babies, children and adolescents.
After graduating from Yong Loo Lin School of Medicine, National University of Singapore (NUS), Dr. Wong obtained his membership of the Royal College of Physician and Surgeons (Glasgow) in Surgery. He completed his specialist training in Paediatric Surgery at National University Hospital (NUH) and was accredited with the Specialist Accreditation Board and Ministry of Health, Singapore. He is a recipient of the Long Service Award from NUH.
He undertook a clinical fellowship at the King's College Hospital, United Kingdom (UK), which is an acute care trauma centre, referral hospital for patients with liver and biliary disease, and regional referral centre for tongue tie. He spent a second year at Great Ormond Street Hospital, UK, and was involved in managing gastrointestinal and thoracic conditions in this multidisciplinary care hospital dedicated solely to babies and children.
As a member of the British Association of Paediatric Endoscopic Surgeons (BAPES), a not-for-profit organisation established to improve paediatric minimally invasive surgery, Dr. Wong was awarded the BAPES Travelling Fellowship to advance his expertise at acclaimed high volume centres. He also received the BAPES Advanced Minimal Access Scholarship in Paediatric Surgery and Urology.

Besides clinical work, Dr. Wong was involved in research and education. He was awarded the Pitch for Funds Grant for a pilot study using elastography to detect fibrosis post liver transplant. He has published in peer-reviewed international journals and was a clinical tutor and examiner at the Yong Loo Lin School of Medicine, NUS. He presented at the annual congresses of the European Paediatric Surgeons' Association and British Association of Paediatric Surgeons. He wrote a chapter in the American Pediatric Surgical Association Pediatric Surgery Library, Pediatric Surgery NaT (Not a Textbook). This is a platform used for doctors' accreditation with Continuing Medical Education credits.
As a father of three, he understands the challenges of parenting, especially when children fall sick. He loves to spend time with his wife and sons because their laughter brings joy and peace to the family. He hopes to bring similar happiness to his patients by providing personalized care and the best outcome for them.
If you have other enquiries on children's surgical conditions, feel free to contact us
© Copyright- 2022 Childsurgery.sg
All Rights Reserved